1. Introduction and history
Brock University
COSC 3P98 Computer Graphics
Instructor: Brian J. Ross

---
---
Introduction to COSC 3P98 Computer Graphics

Course purpose: (i) an overview of computer graphics technology; (ii) an introduction to graphics programming
(see course outline)
Course involves
fundamentals: technological methods and principles
practical: programming assignments
theory: some mathematics and algorithms
Assignments:

programming in C and OpenGL
C++: if you want

Resources:

Reserve reading in library
Online documentation: OpenGL
Course WWW page: lectures, communication, misc utilities and items of interest
online OpenGL Red Book (but it's out of date)
the web: lots of information! (but Do Your Own Work!)
---

Graphics
computer graphics: the use of visual representation for modeling data and conveying information
a topic of study since the 60's
active area of computer science research
recent advances are changing the way computer technology effects us:

Graphical user interfaces
on-line information databases
computer-aided design (CAD)
entertainment industry: commercials, movies, games
virtual reality
---
Why use graphics?
"a picture is worth a 1000 words"
humans have evolved to naturally interpret visual information

eg. it is easier to understand a bar chart, than a table of numbers

graphics therefore creates a human-oriented medium with which the computer and human can interact

permits the synthesis of objects: their visualisation, modeling

motion dynamics: the movement of an object or a viewer within an environment

inspect automobile design in CAD system
non-intrusive medicine
flight simulator

update dynamics: changes in the object being viewed

eg. stresses on bridges
systems incorporate physics simulations : gravity, forces, fluid dynamics

Note that early CAD systems were important for graphics becoming an active research and industrial area.
---
Some terms
interactive computer graphics: that in which real-time performance and human interaction is of concern
pixel: one visible point on the computer screen
bitmap: data structure in which bit(s) maps to a pixel
image processing: manipulating images in order to highligh various aspects of interest; used by computer vision

computer graphics constructs images from models
computer vision constructs models from images
both areas share technology, ie. image manipulation techniques

photorealism: generate graphic images equal to, or surpassing, realism of photographs
non-photorealism (NPR): when realism is not a goal

anime cartoon effects
van Gogh style images
---
Graphics and Hardware Advances
advances in the last decade due mostly to the microchip
what was once esoteric and computationally expensive, can now be done on a cell phone
faster inexpensive (parallel) microprocessors and dedicated graphics chips
developments in photorealism have benefitted from hardware devts.
graphics cards support highly parallel dedicated graphics processing.

Often used for non-graphics processing (number crunching)

screen technology: High-definition television (HDTV), colour LCD, OLED
virtual reality interfaces
3D scanners: find surface geometries of objects
3D printers: make 3D object from computer models
---
Graphics Research and Software Advances
Hardware advances depend upon software to run it.

Language interfaces to support hardware advances: GPU control
specialized graphics chips, monitors, interface devices
Related: use GPU for scientific computation (NVidia's CUDA, OpenCL)

Lots of areas of graphic software advances

GUI design
object-orientation: for supporting complex systems
standardized graphics languages and libraries
graphics tools and interfaces
algorithm design

mathematical modeling

interpolation, curve and surface fitting
computational geometry: algorithmic applications in geometry
study of light and optical phenomenon: colour, texture, shades
modelling the characteristics of physical objects (bouncing jello)

Rendering technology

Realism VS speed!
slow but realistic: ray tracing, radiosity
fast but not as realistic: real-time rendering engines (OpenGL)
But the lines are blurring!
2019 Milestone: The year when realtime ray tracing has become a reality!

Animation technology

More realistic animations, done with less human effort.
Tools to help with the complexities of animations.
realtime (games) VS batch production (video, movies)

immersive environments, virtual reality
---
Types of applications
dimension of object: 2D or 3D
type of interaction:

batch: photorealism, production animation
realtime, interactive

Role of the picture

picture is the purpose: drafting, painting, artwork, desktop publishing
picture is a tool: CAD, user interfaces

Degree of realism

16 or 16 million colours
draft or photorealistic effects (or NPR)
---
A Brief History
teletype printouts were first graphical output devices (e.g. Einstein)
lightpens were an early input device
CAD applications began in the 1960's
plotters also a 1960's development: high-resolution, but slow
main bottlenecks of computer graphics back then

cost of graphics hardware
expense of computer resources
batch systems weren't suitable for interactive graphics
non-portability of hardware and software
a new field: technology was primitive
---
History
Things changed with advent of microchip:

desktop mini- and microcomputers made graphics hardware commercially viable

Output technology (display and printer devices)

hard copy: from monochrome teletype and plotters, to colour inkjet and laser printers
some graphics terminals had builtin thermal printers

Input technology:

keyboards, digital tablets, touch sensitive screens, optical and mechanical mice, trackballs, voice,...
3D scanners, 3D mice, VRML helmets, motion capture suits, ...
---
Vector displays
early display device
vector: line defined by a start and end point on screen
a refresh buffer contains digital commands telling what to draw (location of vectors, draw and move commands, ...)
vector generator: converts commands in refresh buffer into analog signals that are displayed on a phosphor (green) screen
random scan: vectors drawn in the order they reside in buffer
refresh cycles had to occur at 30 Hz: greatly limited complexity of picture
newer tubes had lower refresh rates
dedicated minicomputers later used to handle graphics handling
Examples of old arcade games: Atari Battlezone, Tempest, Star Wars
(note multi-colour vector displays; I suspect they are raster simulations of vectors!).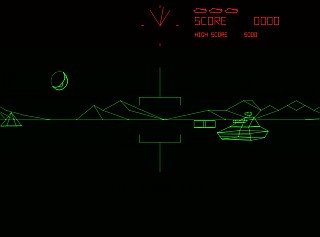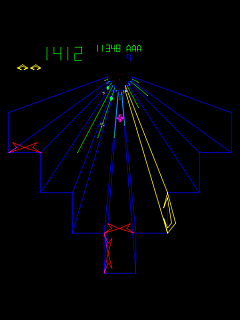 Also, Vectrex was a vector-based home game console from 1982-4. A commercial failure, but still has a fan base. (Get them on eBay for $400-500.)
---
Raster displays
based on television technology
screen is divided into pixels at some resolution (fineness)
refresh buffer contains digital information that is converted directly into screen pixels by hardware
raster: set of raster lines or rows of pixels
when you change some bits in the raster, the screen is changed
television technology has improved resolution
the bigger and finer the picture, the larger the memory req'd for the refresh buffer. But memory is now cheap!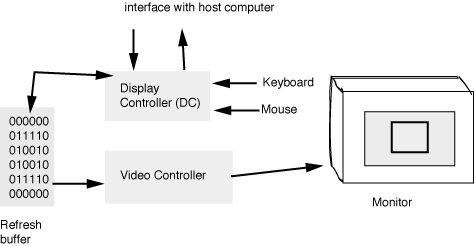 ---
Raster refresh

---
Comparing Raster and Vector
advantages of vector:

higher resolution, especially for diagonal lines
geometry objects (lines) whereas raster only handles pixels
eg. 1000 line plot: vector disply computes 2000 endpoints
raster display computes all pixels on each line

advantages of raster:

cheaper
colours, textures, realism
unlimited complexity of picture: whatever you put in refresh buffer, whereas vector complexity limited by refresh rate
---
Flat-panel displays
2 main types: emissive (plasma) and non-emissive (LCD)
Plasma:

panel of gas (neon) and grid of horizontal and vertical conductors
precise firing a charge at intersection of grid causes gas to glow
RGB filters then produce colour in a way similar to CRT's
advantage: high resolution, getting better, lower energy
disadvantage: limited lifespan (like CRT's)

LCD:

polarized light is shone through liquid crystal mesh
turning on/off mesh locations will either allow or block light
passive: need external lighting to see result
can use backlighting, RGB mesh for colour
active LCD: a transistor at each pixel for activating LCD
advantages: hi rez, low power, very long life
disadvantages: more expensive for large displays, some latency (liquid movement time) means animation can be blurry, dimmer than plasma

LED: aka LED-backlit LCD

backlight lifespan around 60-70,000 hours (but other components fail before then!)

OLED:

Organic LED: electroluminescent organic materials.
Can shut off to produce black. High dynamic range of contrast.
Lifespan no longer an issue at 100,000 hours
2019 Milestone: Prices are now affordable.
---
History: graphics libraries
initially, low-level device-dependent packages were the norm
movement towards high-level device-independent packages, in order to promote application program portability
requires standardization:

3D Core Graphics System ("Core") dev'd in late 70's as unofficial std
GKS (Graphical Kernel System, 1985): official 2D standard built from Core
GKS-3D (1988): 3d objects
PHIGS (Programmer's Hierarchical Interactive Graphics System, 1988) 3d nested objects
PHIGS+ (1988): rendering enhancements
GL: SGI, from early 90's
OpenGL: new standard, open version of GL
Renderman: Pixar rendering language
Direct-3D: Microsoft Windows 3D standard
Java 3D: Java 3D library (www.java3d.org)
CG, OpenGL 3.0 GLSL: vertex and pixel shading
OpenGL ES: for embedded systems (phones, tablets, game consoles)
---


Preview
Application model: mathematical model of objects to be displayed

eg. data structure containing the coordinates of a polygon

Application program: program that defines application model, defines what user does with it, process user input, etc
Graphics system: software and hardware component that takes application model, and using directions from application program, transforms them into a visual object on screen (printer, plotter, ...)

---
Preview
the types of transformations the graphics system performs on model is primary focus of this course
the models are mathematical: lots of trig, matrix multiplication, calculus (when you get into splines)
graphics is a good example of applied mathematics: abstract mathematical representations of physical objects are mathematically transformed into pseudo-realistic representations on the screen
graphics naturally falls into conceptual categories of 2D (drawing on the plane) and 3D (drawing in 3D space), and the transition area between them
usually math is "intensive" when techniques or algorithms are being derived

once the formula and algorithm is derived, they're implemented into graphics libraries
implementation is often hardware-supported
---
---
Back to COSC 3P98
COSC 3P98 Computer Graphics
Brock University
Dept of Computer Science
Copyright © 2019 Brian J. Ross (Except noted figures).
http://www.cosc.brocku.ca/Offerings/3P98/course/lectures/intro/
Last updated: January 8, 2019