6. 3D Perspective
Brock University
COSC 3P98 Computer Graphics
Instructor: Brian Ross

---
---
Viewing 3D graphics: Terms
world coordinates: coordinate system used by application model
world coordinate window: area of world coordinates to draw
screen (device) coordinates: pixel coordinates used by terminal, plotter, ...
viewport: area of graphics window to map world coordinate window into

note: also have "window coordinates" in windowing GUI; we'll assume that device screen is our OpenGL window we're drawing into
viewport is an area of your OpenGL window
can specify such using OpenGL's "glViewport" command

clipping: drawing images that reside within viewport, and ignoring images outside the viewport
---
Viewing 3D
to draw 3D objects, we need to project them onto a 2D surface, which can be displayed by our 2D graphics hardware

(when holographic displays are created, this topic won't be required!)

planar geometric projection: transforming a point in 3D space onto a 2D plane

can also transform points in 4D, 5D etc (eg. fractals )
eg. projecting a line segment from 3D space to 2D plane:
1. project its 2 endpoints to 2D points that lie on some plane
2. draw a line between these two projected endpoints

technique: project rays from each point in object towards a centre of projection; (a point in space), and in which there is an intervening projection plane between object and centre of projection

where rays pass through projection plane defines the projected image

different projections are derined by putting plane and centre of proj. at different locations
---
Viewing 3D
centre of projection is often the viewer's eye, camera eye, etc.
projection plane is the CRT screen
non-planar projections possible: project onto spheres, etc.
3D drawing steps:
clip objects in a 3D viewing volume

defines the extent of coordinate system of interest

project viewing volume onto a viewing plane (world coord. window)
transform plane to viewport
draw viewport on graphics window

---
Main types of planar projections:
1. parallel projections: centre of projection is an infinitely far from object

preserves lines, distances, angles
however, unrealistic: lose all depth information (human's don't see this way)

2. perspective projections: centre of projection is a finite distance from object

reflects how we see
yields perspective foreshortening: objects farther away look smaller
note: approximates what the human eye sees; eyeball is actually spherical, but brain compensates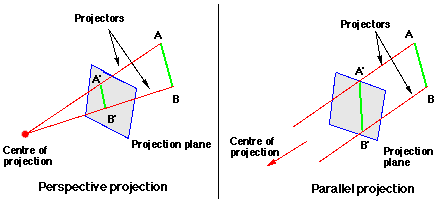 ---
Parallel projections
also called orthographic projections: all projecting rays are parallel to each other, and orthogonal (perpendicular) to projecting plane
simple to implement: discard one coordinate from all points
(x, y, z) --> drop z coordinate --> (x, y) : projects onto x-y plane
do this with all coordinates in your figure
straight lines are preserved:

line seg. (x1, y1, z1), (x2, y2, z2) ---> line seg' (x1, y1), (x2, y2)

To get different view, discard different coordinates: simply maps to x-y, x-z, y-z planes as appropriate (see below)
---
Parallel projection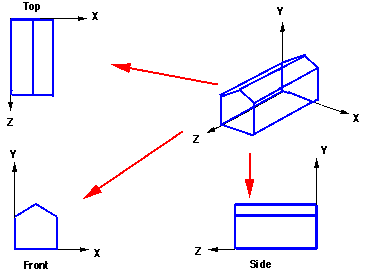 orientation of axes based on right-handed coordinate conventions
all sense of depth is lost:

if you took a 3D object and interactively rotated it on a computer using orthographic projection, it would look odd
---
Parallel projection: OpenGL
Important: make sure you do glMatrixMode(GL_PROJECTION) before setting up your viewing environment. This permits you to use translations (glRotate, etc) to help move the camera if desired. Go back to GL_MODELVIEW before manipulating the model.
You should first do a glLoadIdentity() to initialize viewing matrix. Then use glOrtho and others to set up projection scheme.
glOrtho(GLdouble Xmin, Xmax, Ymin, Ymax, Zmin, Zmax)
intuitively: glOrtho(left, right, bottom, top, near, far)

this defines a 3D volume: objects (or portions) outside these extents are clipped, and remaining objects projected to X-Y plane
Z values (near, far) are taken as being negative: projection plane is X-Y plane, and we are looking at it from positive Z axis towards negative Z axis

gluOrtho2D(GLdouble left, right, top, bottom): 2D equivalent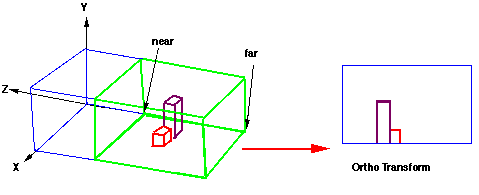 ---
Perspective projection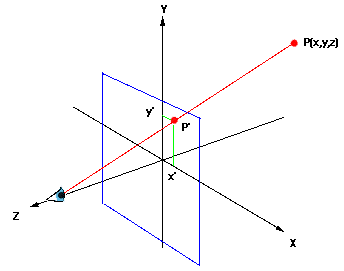 This example: eye is on Z axis, and we project onto X-Y plane

(can do this on any arbitrary eye position and projection plane however)
---
Perspective
eye no longer at infinity; we assume object is on opposite side of viewing (XY) plane
By default in OpenGL, if eye at at (0,0,0), looking down -z, distance d from proj plane, then z < d for all z's in object
In the following, we simplify setup so that viewing plane is distance d from eye, and P is distance z from eye.

y'/d = y/z 

or

y' = d*y/z = y*(d/z)
t = d/z <-- perspective factor: multiply it to y's, x's

So... y'= y*t = y*(d/z),   x' = x*t = x*(d/z)

                         | 1 0  0  0 |
            Mper    =    | 0 1  0  0 |
			 | 0 0  1  0 |
			 | 0 0 1/d 0 |

ie. P' = Mper * P = (x*(d/z), y*(d/z), d)    (d = posn of proj plane on z axis)

notice:

(1) when object far from eye, z gets large, perspective factor t=(d/z) approaches 0 --> object coordinates get reduced
(2) when object close to eye, z approaches d, (d/z) approaches 1, and t has less effect --> object projected larger on viewing plane
(3) when eye close to proj plane, d approaches 0, (d/z) gets small, and t perspective effect is exaggerated (like wide angle lens)
(4) when eye far from proj plane, d is large, (d/z) is large, z-effect not as relevant, and t perspective effect is not as pronounced (like telephoto lens); approaches orthographic projection (t has no effect)
---
Perspective
when point is far from eye, (large "-Z"), then t is a small fraction, and this creates small y', x' (approach a vanishing point in the distance)

Net effect is that object coordinates are 'shrunk', and object appears small

points near the plane (Z=0) project onto the plane fairly directly
points near the eye ("+X"), then t' gets large, and Y, X get large as well
OpenGL: as above, projects onto XY plane, and we look towards negative Z axis
note that, if the eye moves farther away towards infinity, z/E approaches 0, and t' approaches 1: this is orthographic projection
---
Projection example
Let eye be at (0, 0, 0), proj plane at (0, 0, -1), ie. d=-1, and eye looking down -Z axis
| | | | | |
| --- | --- | --- | --- | --- |
| Point | World coords | Orthographic coords | Perspective factor t | Perspective coords |
| A | (2,1,-1) | (2,1) | 1.0 | (2,1) |
| B | (2,1,-10) | (2,1) | 0.1 | (0.2, 0.1) |
| C | (2,1,-100) | (2,1) | 0.01 | (0.02, 0.01) |
| D | (2,-5,-100) | (2,-5) | 0.01 | (0.02, -0.05) |
| E | (-50,-50,-100) | (-50,-50) | 0.01 | (-0.5, -0.5) |
Vanishing point: Lim(z -> -inf) (d/z) = 0

therefore: x' = x*t = x*0 = 0, y' = 0 --> vanishing point is (0,0)
---
Perspective: OpenGL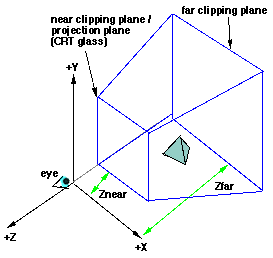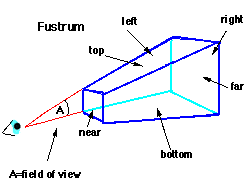 4 planes: left, right, top, bottom, near, far

defines a pyramid with its top shaved off: "frustum"
---
Perspective: OpenGL
gluPerspective(GLdouble fovy, aspect, zNear, zFar)
fovy: field of view - angle made by top and bottom of clipping glass
aspect ratio: ratio of glasses X dimension to Y dimension (XD / YD)

typically same as window dimension ratio: use glutGet(GLUT_WINDOW_WIDTH/HEIGHT) to find it
(same as what you set with prefsize)
eg. square window --> aspect=1.0

znear, zfar - distance to near and far clipping planes
bigger fovy: movie eye close to plane, so effects of perspective increase
---
Moving the eye in OpenGL
1. Move the camera manually
instead of manipulating your graphics image, you can move your eye around it
use glRotate, glTranslate, and other transformations to manually move your eye to desired location.
both operations use same transformation matrix operations (but opposite directions)
Do such transformations while in glMatrixMode(GL_MODELVIEW) and initialize with glLoadIdentity()
---
Moving eye in OpenGL
2. gluLookAt(GLdouble eyeX, eyeY, eyeZ, centerX, centerY, centerZ, upX, upY, upZ)
eyeX, eyeY, eyeZ: eye coordinate (viewing position)
centerX, centerY, centerZ: a point along line of sight
upX, upY, upZ: direction of "up" (normal from bottom to top of viewing volume)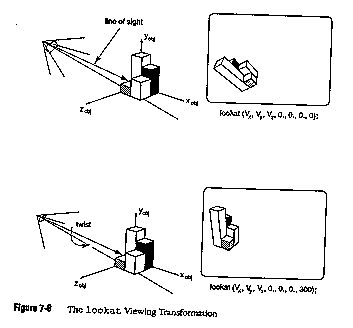 ---
Example OpenGL Program
Note how cube's far corner is clipped within viewing volume...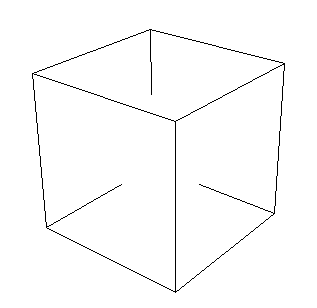 ---
References
OpenGL Programming Guide, OpenGL ARB, Addison-Wesley 1993, ISBN 0-201-63274-8. (chapter 3; see insight)
---
---
Back to COSC 3P98 index
COSC 3P98 Computer Graphics
Brock University
Dept of Computer Science
Copyright © 2015 Brian J. Ross (Except noted figures).
http://www.cosc.brocku.ca/Offerings/3P98/course/lectures/3d_perspective/
Last updated: November 4, 2015